on Tue Mar 01, 2016 4:27 am
I was surfing through some forums to get ideas, came across a few things I like and wanna try. I don't know where to really start  
I'm not sure what they did, but i'm positive they did something to the body of the picture. Where you see the high lights of red on over the character Luffy's body, what is this?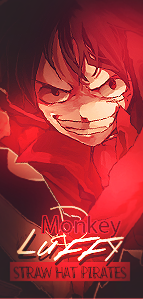 on Tue Mar 01, 2016 8:26 am
on Tue Mar 01, 2016 9:03 am
I'd add a light leak texture effect with screen blend mode, another texture with overlay mode, would darken the edges with soft selection mode and at the end decontrast the whole image.

Quick sample, and elements.
But there are premade effects for effects like this. You can add to the software you use. 

Or you can find some quick additions online, for example http://befunky.com/ has some pretty nice effects.
on Thu Mar 31, 2016 8:09 pm
Is the answer satisfying?


Permissions in this forum:
You
cannot
reply to topics in this forum